Accommodations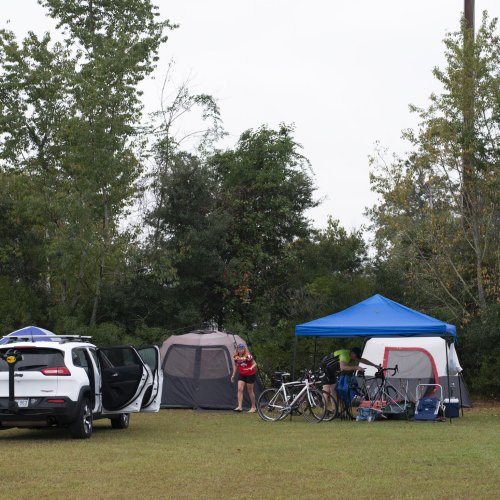 RV and TENT CAMPING:
This year we have 60 tent sites available and 20 RV sites less than 4 miles from the Colleton Farmer's Market start point. Bathroom facilities - hot showers, toilets, and other nice amenities are available.
RV'ers are welcome, and water hookups, grey and black water drops, and power hookups are provided. Eight sites provide 15 amps of power, with 12 of the RV sites offering 30 amps of power. (If you need 50 amps, New Green Acres will be a better choice for you.)
The camping address is: 1379 Tuskegee Airmen Drive, Walterboro, SC.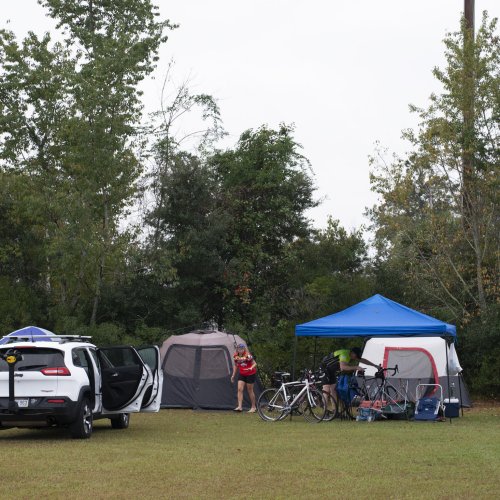 The Hampton Inn and Holiday Inn are great first choices of the hotels. There are three Bed and Breakfasts and one Boutique Hotel located just around the corner from the Colleton Museum, the start of the rides each day, all in Walterboro, SC 29488.
Exit 53 from Interstate 95 is the best exit - closest to our central hub, the Colleton Farmer's Market.
Choose Exit 53 to find us and to get your lodging.
See Walterboro Hotels Map for locations of some of the hotels listed below.
​
HOTELS/MOTELS
Holiday Inn Express - 1834 Sniders Highway - (843) 538-2700

Hampton Inn - 129 Cane Branch Road - 843-538-2300

Quality Inn – 1835 Sniders Highway - (844) 283-2808

Best Western Inn - 1428 Sniders Highway - (844) 251-9772

Ramada Inn t - 1245 Sniders Highway - (843) 538-5403

Red Roof Inn - 1245 Sniders Highway - (843) 538-5403

EconoLodge - 1142 Sniders Highway - (843) 298-7082

MicroTel Inn & Suites - 1-95 Exit 53130 Cane Branch Road 29488- (843) 539-5656

Rodeway lnn - I-95 Exit 53 97 Ladson Street - (843) 538-8964

Comfort Inn and Suites - 97 Downs Lane - 623-748-7179
BED AND BREAKFASTS
WALTERBORO LODGING WEBSITE: http://www.walterborosc.org/visitingus_lodging.aspx